On-Campus Living at Adelphi
Adelphi's residence halls are more than just dorms—they're communities.
Welcome to Adelphi's residential communities, where students from all over the country—and the world—live, learn and grow together. Each of our seven residential communities offers support and convenience, as well as opportunities for personal growth, cultural exploration and interaction with peers and staff. 
When you live on campus, you can be anywhere you need in five minutes: classes, dining locations, fitness center and gym, library, computer labs, bookstore and our spectacular performing arts venue. You can easily drop by campus offices like the Center for Career and Professional Development, Registrar's office, Financial Aid, Health Services Center or Student Counseling Center. You will save hours each week by living on campus.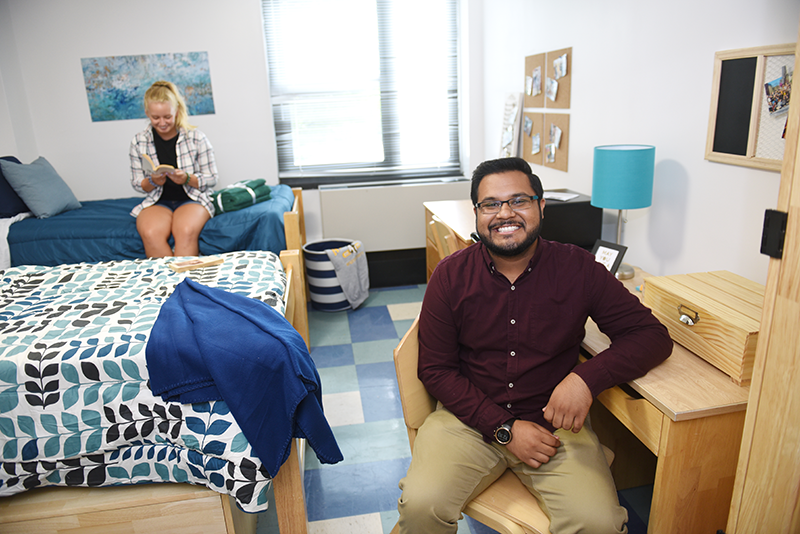 About our halls
Adelphi offers students the option to choose from among seven distinctive residential communities:
All of our halls offer you great amenities to make your college life fun and headache-free, including:
Fully furnished rooms
Large lounges with kitchens
All-inclusive utilities
Free Wi-Fi, cable and HBO Go
Free laundry facilities
Made to order food in our dining halls
Access to free events in your hall
Resident Assistants to help you out
View a map of all our residence halls
---
Chapman Hall: Close-knit community; mix of first-year and upperclass students
Located near the Adelphi University baseball field, Chapman Hall was renovated in 1999 and has four floors.
Of these floors, two are only for women and two are co-ed. Each floor features multiple bathrooms.
» Meet the Chapman Hall RAs (Requires eCampus login)
---
Earle Hall: Active and diverse community; mostly upperclass students
This residence hall is one of the more active and diverse halls on campus. It includes the Honors College and its suites, the Student Organization Suite, Student Activities Board, Language Lab, Student Media Center, The Delphian, The Oracle, PAWS web radio and Works in Progress.
Earle Hall is located near the Performing Arts Center and Motamed Field. It shares the residential quad with Waldo Hall. 
The hall is named after one of the University's most noted alumnae, Genevieve Beavers Earle, the first female member of the New York City Council.
» Meet the Earle Hall RAs (Requires eCampus login)
---
Eddy Hall: Very social community; mostly first-year students
Eddy Hall has three coed residential floors and is home of the Greek Suites, located on the lower level.
The building ws named in honor of Dr. Paul Dawson Eddy, the third president of Adelphi (1937–1965).
» Meet the Eddy Hall RAs (Requires eCampus login)
---
Linen Hall: Quiet and relaxed community
Linen Hall is located next to the University's baseball field and its residents of Linen appreciate a quiet and relaxed atmosphere.
Named after James A. Linen, a former chair of the Adelphi University Board of Trustees and former president of Time inc., Linen Hall has one floor for women and three for both men and women.
» Meet the Linen Hall RAs (Requires eCampus login)
---
New Hall A: Landscaped courtyard for socializing; mostly upperclass students
New Hall A, which opened in the fall of 2003, is a state-of-the-art building located adjacent to Swirbul Library and near the softball and baseball fields. Each room features a private bathroom and individual climate control including air conditioning.
Other features include lounges on every floor, a patio, and a gracious landscaped courtyard opening onto the campus. Located on the lower level of New Hall are the University Library Archives and Special Collections.
» Meet the New Hall A RAs (Requires eCampus login)
---
New Hall B: State-of-the-art living; mostly upperclass students
New Hall B opened in Fall 2011, featuring environmentally sensitive design and its heating and cooling systems are powered using geothermal technology.
The building is located between New and Eddy Halls, adding to the residential section of the campus offering students great views from top floor lounges of baseball games played on the nearby William J. Bonomo Memorial Field.
» Meet the New Hall B RAs (Requires eCampus login)
---
Waldo Hall: Right on the Quad for fun, first-year living
Conveniently located midcampus, Waldo and Earle Hall share the quad, which is a favorite area among residents and hosts many activities throughout the year. Waldo Hall is also home to the Health Services Center.
The hall is named in honor of Ruth Fanshaw Waldo, one of the first women executives in American advertising and former secretary of the Adelphi University Board of Trustees.
» Meet the Waldo Hall RAs (Requires eCampus login)
Follow